Hakuna potata: Indie platformer for a couple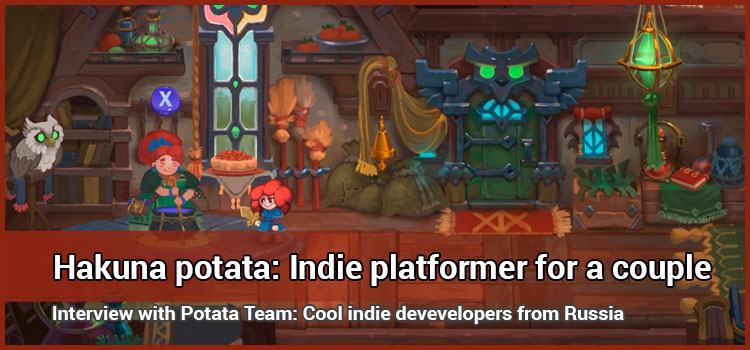 Hello, everyone! In our section 'About Indie Developers' we again introduce you to the cool independent game developers.
In this interview we present you to the cool team of developers of the colorful, bright and moderately hardcore Potato platformer – Potata Team: married couple Anya Lepeshkina and Alexey Zavrin.
But at first let's take a look at the trailer:
Hi guys! Tell us about yourself. Where are you from? Where did you study? How did you end up in Gamedev?
Anya
Hello everyone, my name is Anya, I'm from Tomsk. I was born there and studied programming at the Polytechnic University. I have wanted to get into Gamedev since my childhood. There was no question of the sphere where I'd like to prove myself – only game industry, and that's final.
I have been fond of games since I was eight, not just playing one or two games a year but reading the game press (half of my father's garage is still littered with GameExe, PC Games, Igromania, Country of Games and the other half is littered with game discs) and learning the basics of programming.
I didn't have a goal to become a game artist, I was determined to get into the industry and participate in game development. My way to CG began much later, in the third year of my studying at university, and then it has become this whole thing.
Being a "do it yourself" person, I began to study the game art design and subsequently animation to have at least a theoretical opportunity to do everything on my own. And then I got a job in the field of CG and became focused on this direction.
Lesha
My name is Lesha, I'm from Tomsk and I studied programming at Tomsk Polytechnic University. My diploma thesis was on Unity, thus I got acquainted with this engine but later I got involved in another sphere and I was engaged in site development (both front-end and back-end) with complex logic, including game one.
In my free time I developed my programming skills and skills of working with the unity engine, I also made a couple of projects 'for the drawer'. But at some point, we decided to design a platformer in our free time together with Anya and you know the rest.
How did you come up with the idea and name of your game – Potata? Is a platformer your favorite genre? What games were you inspired by?
Our game began with my concepts, but the idea wasn't clearly formulated right away, rather, the general mood. I really wanted to tell the players a fabulous story. The name came from the original character design.
Initially, it was very compressed in proportions and we jokingly called it a potato (pronounced like [pɒˈtɑːtɑː]). But 'of course', we know English, that's why the nickname was transformed into Potata. As a result, this name stuck, so we kept it.
A platformer is the genre which my passion for games started from (Sonic series, tiny toon and other platformers with Sega). Moreover, I'm still following the genre and what is going on in it. My love for this genre hasn't faded. I was inspired by such games as Oddmar, Seasons After Fall, Child of Light. And from the point of view of the mechanic – Fantastic Dizzy.
Did you work on the game at home? You'll have a release soon, how much time did the development take?
Yes, we did. We worked on the game at home, back to back.
The development took two years, we have been engaged in the project almost at full employment for the last six months and before that in our free time and with interruptions. I've been a freelancer for a long time and so has Lesha, but half a year. This allows us to regulate the development schedule and the ratio of time devoted to the main work and the project.
Tell us more about the process. It sounds very unusual after all: a husband and a wife have developed an indie game together! Did you face any disputes? How did you resolve them?
Disputes don't practically arise because everyone is responsible for their part of the work. My responsibility is the art, the game design, the text and a part of the animations and Lesha takes over the programming and also a part of the animations.
We have been together for almost 10 years now, we can negotiate, even if disputes arise. In general, the fact that we are not just random two people, who didn't particularly communicate before the development, helps a lot.
Will your game be released on STEAM? Probably, any other platforms? Have you chosen a definite date yet? Do you monitor in any how that there won't any major releases on this day?
First of all, Potata will be released on STEAM, the release is on December 17th. There are also some shifts towards the access to Switch. Concerning the release date, in my opinion, if you start turning on a smart analyst and choosing a date based on a bunch of parameters, the most successful date will be "never" because there is always a certain minus for the game release in almost every period. What is more, with the resources of two people, there is always a chance of force majeure circumstances, for instance, one of them falls ill, nobody can't replace him and all the work stumbles. Now the game is at the test stage finally. We correct one bug, another one appears, it's a standard story. So, the release is about to come out.
Why have you decided to release the game on your own, without a publisher? Surely, you have been approached with some proposals.
We have decided to release the game without a publisher because it is primarily creativity and self-expression for me. Potata project is very authorial and personal for me as well. Thereby, we weren't particularly thinking about a publisher during the development process. There were some proposals, but nobody will take up a project before its release. And I wouldn't like to postpone the release date to nowhere.
How much will the game cost at the start? How do you determine success or failure for yourselves?
The cost will be about 8-9$ and most likely there will be a discount at the start, so you should buy it straightaway :)
The main success for me will be the fact that the game won't be unnoticed. I measure success not in terms of money, but rather in the visibility of the project. Obviously, this is an interconnected thing, but the second one is more important to me.
My next question is about the sounds and the music in the game: there is very beautiful music in the trailer, have you ordered it or is it something from free assets?
We have bought the music. It isn't unique to our project. All sounds are also used under license.
How often do you manage to play games yourselves? Which games do you play?
There is always time for games. We try to play all the major new products, but recently we have started to glance at the indie market. 'Small' projects have started to attract us more often. The last things that I really liked are TSIOQUE, Eagle Island, Irony Curtain, Valfaris. The most significant games which are in the process now are The Outer Worlds and
Death Stranding
.
What advice would you give to the developers who are just at the beginning of their journey, who are creating their first game?
Practice, practice and again practice. I advise you to start with small forms. I mean take on compact projects, not MMORPG.
Thanks so much for your interview!
Well that's all! The release of Potata platformer is scheduled for December 17th, we are really looking forward to the game and we wish the guys that the release would go smoothly, the ratings would be very positive and the number of downloads would exceed all their expectations.
Potata team contacts
Links to the guys and the game: Potata on STEAM, Twitter
Let the story continue on other platforms, I'm sure Sasha Koloskov is waiting for the game on Switch! Don't forget to add Potata to your wish list and buy it at the start!
Did you like the article? Share with friends: