Free ads for indie games without publisher: +1PR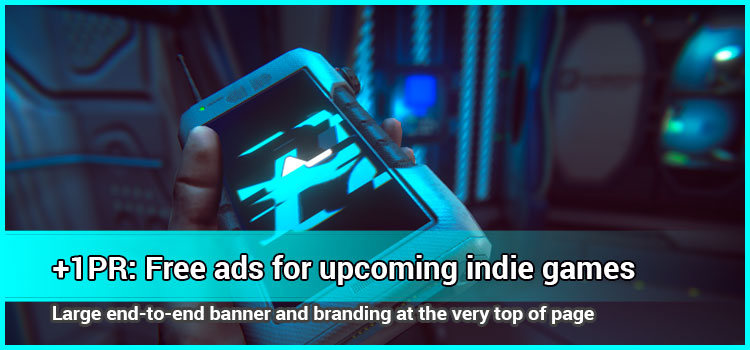 Hello everyone! Impressed with DevGAMM 2019 Minsk, we were thinking what could we do for 'hip-hop'? How can we help indies who feel bad?
And here's what we have come up with: we have quite visited site, about 270 thousand users a month, more than 12k a day, so why not taking advantage of this traffic?
We want to support indie developers who release games on their own, without a publisher, and help them with promotion. Why only 'without a publisher'? Well, come on! A publisher, for sure, has a clear wide plan for promotion by the time of release, and some 30k-50k banner views is just a drop in the bucket.
What promotion are we talking about?
What kind of promotion will it be? It will be a large end-to-end banner and branding at the very top of page, 'buy' or 'add to wishlist' buttons … I don't even need to explain, just have a look at the example: the branding for the Far Out game coming out on January 21th on XBOX and Humble Store.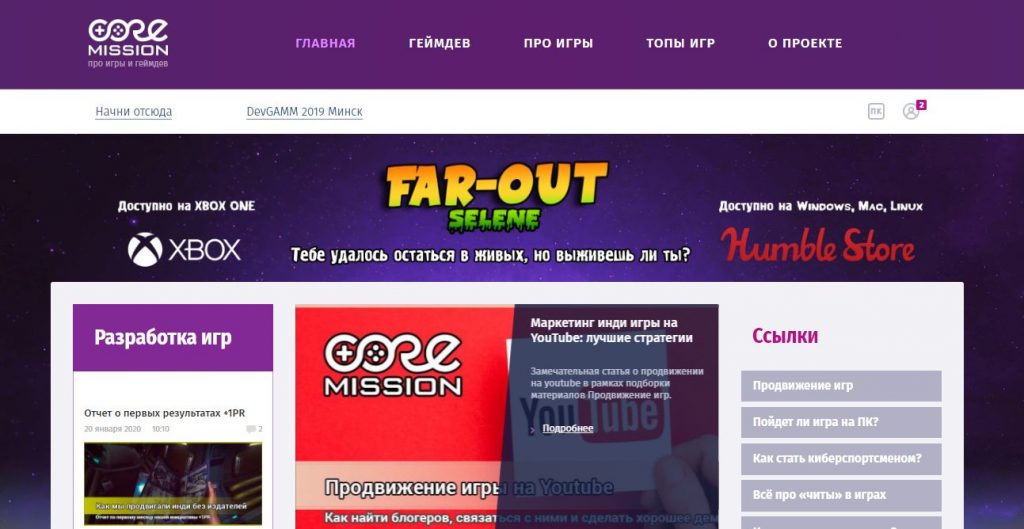 At the same time, we will help you to conduct an experiment with a banner design to maximize CTR!
Moreover, everything is free, without SMS and we will synchronize everything with the release of a game! Maybe this 'small promo potion' will give the missing +1 to Recognition, which will help to get featuring in the category or some kind of positive feedback and just an upload or addition to the wishlist (we can start advertising a couple of days before the release).
Requirements for a game and banner graphics
But we aren't ready to post everything. Since your advertisement occupies a significant part of the screen and the most noticeable part is at the top, we aren't going to promote any trash.
The game should be cool and the banner should be designed great!
Upcoming games with release date
Important: Now there is an opportunity to help only upcoming games: coming out for the first time or being released on a new platform. Early access – no, Beta – no.
Why is that? We'll explain: our advertising is auxiliary to the main promotion, it's launched in order to be given a promotion push and get into the TOP categories, get feedbacks, featuring. But such a promotion won't help that much to the games already released. You must agree that branding is too much to collect feedbacks.
There is a possibility to adjust ads separately for mobile devices and desktop. That is quite logical. Is it worth taking players to STEAM by just clicking their phones? It seems to us that no.
Well, this makes it possible to promote 2 games at once: one for the PC, the second one for mobile devices, or just one game that comes out both on mobile platforms and PCs.
Mutual help isn't obligatory
We will ask you to place links to our resource as a return 'thanks', not necessarily to the main one. It can be a page with your interview, an overview of your game or just information about your studio. We need links for growth and promotion.
If you have a studio site, a game site or some communities, so a link is what will allow the site to get more weight in the eyes of search engines (Google, Yandex) and, therefore, to get more organic traffic. And as a result, your ad will also get more views and conversions. Please, don't be greedy or lazy! Indie Power!
Write to us
If you need this kind of help, you want to talk about your game, participate in an interview, talk about indie, game development and just get to know each other.
Write to Sergey: Facebook, Telegram or e-mail: s.coremission@gmail.com
Feel free to discuss the possibility of any other kind of cooperation. We are looking for financial support and sponsors ourselves. We can do more, we can do better with proper support!
Press release, keys
If your game already released, or you have a publisher, whatever else feel free to ask, information is on the page Press releases, keys for a review and giveaways.
The calendar
It's great that the initiative aroused interest! The timetable:
Until December 25, 2019 – Potata
Until January 5, 2019 – Molecats kindly agreed to conduct an experiment with us to measure performance (Banner Views >> Conversions >> Shopping)
Until January 27, 2020 – Far Out
Games that are releasing in February, March – write.
New format
A lot of messages and letters came to VK, so we understood that Sergey can't keep up alone with answers and, all the more, ratings. We want to do the following: 2 games a month will receive an advertisement + 1PR: one game will be chosen by the website editorial staff and another one will be chosen by users. We will create an indie chart for this purpose where you can share the information about development in devlog or screenshot saturday format. What is more, the chart Top will be shown on the main page.
P.S.
As we have already mentioned, links and references in the social networks are our hyperdrive. It's not difficult for you, but it's super important for us! If you don't need such help in promotion, but your colleagues may need it, please, share the link to this article!
Did you like the article? Share with friends: